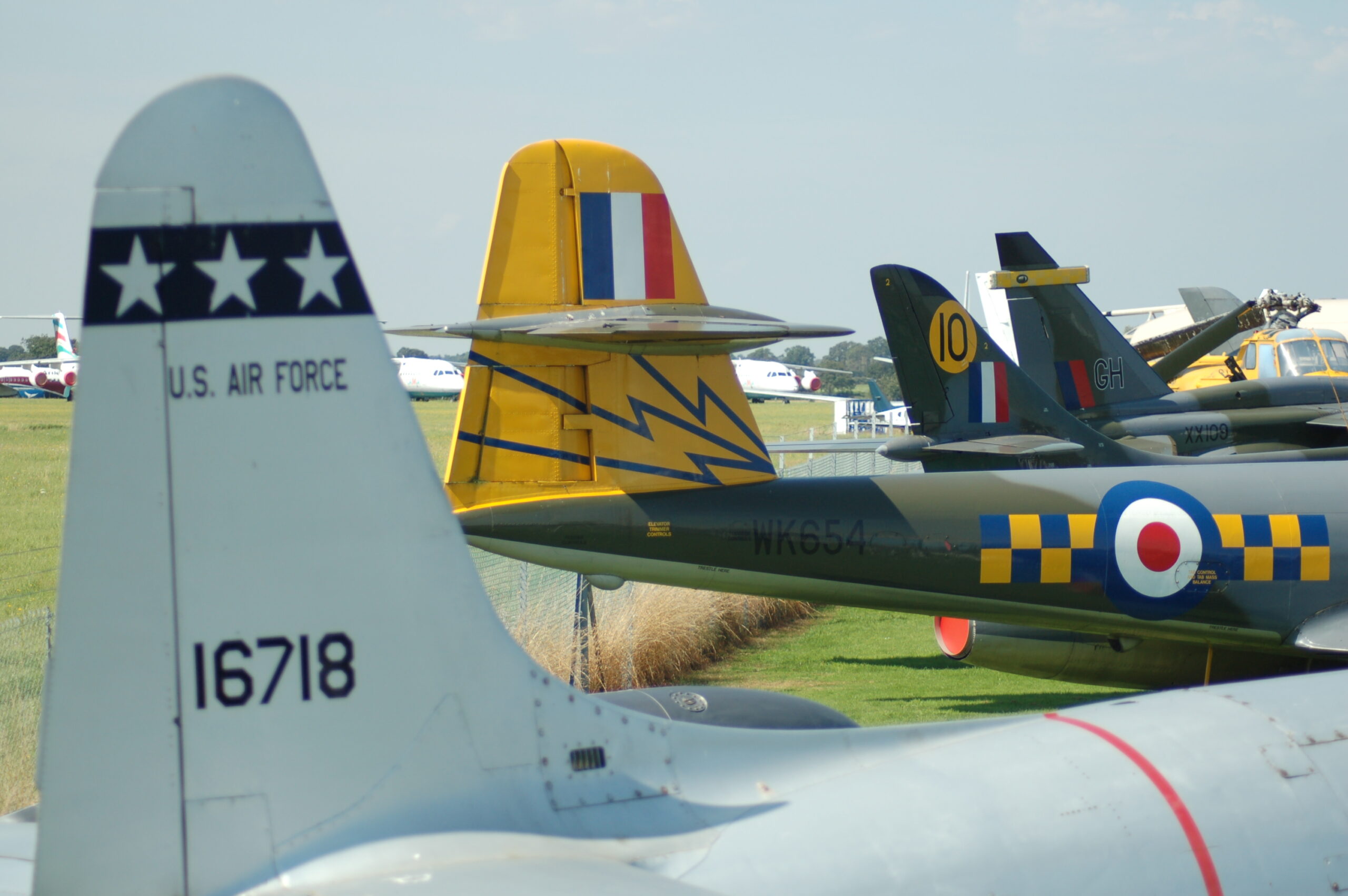 The museum started out as an aviation enthusiasts group for members of the Eastern Counties Omnibus Company way back in 1977. The membership was later opened up to non employees and a temporary site was secured on the 17/35 runway at Norwich Airport.
In early 1982, museum exhibits included Avro Anson (TX228), Westland Whirlwind (XP355), Sea Vixen (XP919) and a Dassault Mystére IV (121). 1983 saw the arrival of our Vulcan bomber which flew in to the airport after its retirement from service.
By 1985 the museum had moved to its present site and an air fair held to help raise funds to expand the museum. At this time the Anson had gone (having been damaged beyond economical repair during gales). 1986 saw another air fair on 14th September that saw attendance figures break the 20,000 barrier and another arrival, T-33 (16718).
Over the next few years, services were laid, the main exhibition hall erected and the arrival of more aircraft. Recently the museum has expanded its display areas, widened its public awareness campaign, and advertised itself globally through its website and various social media platforms.
The future holds many obstacles for the museum but with a dedicated group of volunteers we hope to carry on expanding and provide a more comprehensive view of aviation in the area.
Museum Milestones

1977 The Eastern Counties Omnibus Company started an aviation enthusiasts group.
1982 Avro Anson TX228, Westland Whirlwind XP355, Sea Vixen XP919 and Dassault Mystere IV (121) arrive at the museum.
1983 Avro Vulcan XM612 arrived at the museum.
1985 Museum site moved adjacent to Norwich Airport. Handley Page Herald G-ASKK arrived at the museum and Avro Anson TX228 damaged beyond economical repair as a result of a severe storm.
1986 Visitors numbers exceed 20,000 for the first time and Lockheed T-33 (16718) arrives at the museum.
1994 Sea Vixen XP919 departs the museum.
1995 Gloster Meteor F.8 WK654 and Hawker Hunter E-409 arrive at the museum.
1996 The City of Norwich Aviation Museum becomes an accredited museum – the first museum of it's type.
2000 Fokker F27 G-BHMY arrives at the museum after the Norwich Airport 60th anniversary air show.
2004 Sepecat Jaguar XX109 arrives at the museum.
2005 / 2006 Some elements of the former Coltishall Cockpit Collection joined the museum. This comprises of two Sepecat Jaguars; XX830 & XZ375, Blackburn Buccaneer XN967 and McDonnell-Douglas / BAC Phantom XV426.
2010 Hawker Siddeley Nimrod MR.2 XV255 arrives at the museum.
2014 Fokker F27 G-BCDN fuselage arrives at the museum.
2019 Groundworks begin on the museums new multi-function room.
2020 Avro RJ85 E2351 (formerly EI-RJN) arrives via crane to the Museum and the new multi-function room (tea room) opens to visitors.
2021 Piper PA30 Comanche N30NW arrives at the museum.